We love the jacket. It adds that perfect 'third layer' that pulls together an outfit. Jeans and a tee shirt? No problem - a jacket or blazer instantly polishes the look. And with unlined jackets, not only is the sewing EASY, but the jackets feel like sweaters!
Let's get some inspiration and then look at interior jacket construction.
The Boyfriend Jacket:
The Boyfriend Jacket is slightly oversized and longer than a fitted jacket. It's designed with a slightly-off-the-shoulder line that needs at least a thin shoulder pad to keep it's shape (none of those 1" 1980s pads, just a very thin pad, even one you make out of a couple of layers of interfacing and fashion fabric will do.)
The Boyfriend begs to be worn with skinny or boyfriend jeans (slim) or even a slim bootcut jean. Over tees, chambray shirts and even print blouses, the Boyfriend is your go-to jacket for weekends and casual workwear. Click on the carousel of Sherry below, in the Boyfriend Jacket, in a pinstripe woven fabric to scroll right and see all the images.
The Boyfriend jacket has bust darts in the larger sizes for shaping. Simply fold and stitch the dart on your sewing machine (straight stitch) and press the dart down toward the bottom of the jacket, construct the rest of the jacket as usual.
The Fitted Jacket:
Fitted Jackets - such as a classic notch collar jacket or a shirt-collar style jacket - all feature seaming details that shape the jacket - and the body's visual curves - into a sleek line. They're of course a classic suit jacket, but we like them far better with jeans. You can do a lot with a classic jacket that is unlined.
Boucle, wool tweed, wool flannel, linen, denim, printed canvas cottons and home decorating fabrics, jacquards all look great in fitted jackets. Of course, don't ignore the knits either - ponte and cotton-lycra make delightful jackets that feel like sweatshirts!
The possibilities are endless with the choices of both woven and knit fabrics for classic fitted jackets. A jacquard home-dec fabric in a jacket is a very upscale option that adds polish to a tee and jeans for a date night out. But that same jacket in a cotton/lycra with a contrast print cotton/lycra under the collar goes easily to the kids' sports practice, too.
Here are a few inspirations of what you can do with jackets with color variations and styling: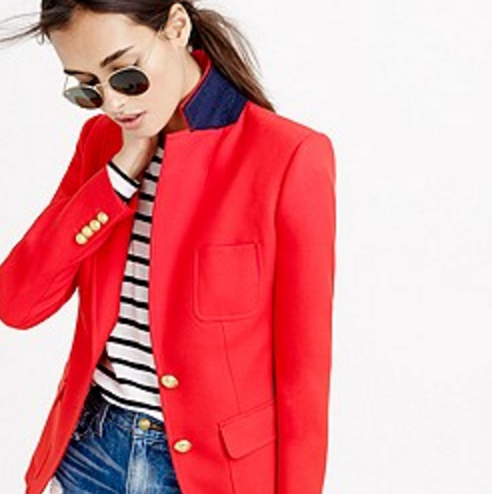 These jackets are both made of wool, feature classic buttons and a contrast under collar. Skip those complicated pockets but do add the fun buttons to the sleeves of your jackets. Shown with classic striped tees and jeans, these jackets will stand the test of time in your wardrobe.
Fitted jackets are (typically) shorter than the Boyfriend style, but the Princess Jacket also comes in a long length, which looks incredible with a knee-length dress.
Make sure it's an easy to construct jacket!
Jackets can be one of those "I'm afraid of a big, complicated project" types of sewing projects. These jackets are EASY to sew! All are unlined and feature serger contstruction, professional ready-to-wear sewing methods for perfectly pointed collars and stitched-down facings to keep the interiors of the jackets as beautiful as the outside. They are great first-time jacket projects and even the Fitted Jacket, with it's two-piece sleeve, and body panels, is a less-than-four-hour jacket sewing project. You can have a whole wardrobe of jackets to wear over your tees and jeans.
Styling Jackets
Of course, they look great over jeans - of all types. They can go over your dressy trousers and pencil skirts for work, but they can also layer over leggings (Boyfriend, Inset Jacket and Princess Jacket), or maxi skirts (Fitted, Princess Jacket made in a cropped high-hip length.)
Under collars, double collars all look fabulous in contrast or coordinating fabrics. Interior back-neck facings look incredible using a contrast or print fabric (scraps from other projects are perfect for this) with your custom labels sewn on. You'll be proud to swing that jacket over the back of the chair when out with friends to show off your creativity. These looks, from our Pinterest board (click on the image to go to Pinterest) show the diversity and polish a jacket can give even to a simple outfit.