The Christine Jonson Patterns Inset Jacket is superb as a swim cover up for spring break or summer and it makes a fabulous long linen or canvas duster jacket for spring too!
Inset Jacket Swim Cover Up
Sew an easy and stylish swim and sun cover up from the Inset Jacket from Christine Jonson Patterns
The Inset Jacket features front and back inset panels that are a perfect canvas for embellishment: try purchased appliques (Etsy is a great source) or design/embroider your own. Use fabric paint, hand-dyed fabric, print-blocked fabrics for the inset panels which are then sewn to the jacket. The front and back pleats can also be sewn as gathers. They gather in the front/ back only for a sleeker silhouette.
Our samples are sewn in a devore/distressed knit fabric and a white cotton gauze. The devore/distressed version is lengthened 3" in the body and the sleeves are lengthened to full-length from ¾ cropped. Both are beginner-level additions that do not require pattern alterations, just a ruler and chalk to draw the new lengths on your fabric. Use kids' chalk (white) or a sliver of soap and the markings will wash right out of the fabric.
Try these design variations:
Green or tan cotton canvas with purchased embroidery, lengthen the jacket by 3" and add a full-length two-way front zipper for a cargo-style jacket. Add patch pockets (try the pockets from the Christine Jonson Patterns Easy Coat or draw your own pocket template.)

Sew a striped French terry in a long knee-length version with the included front ties to make a great long cardigan. Add the Travel Trio Two hood, lined with contrast print knit fabric.

Sew a bright or pastel linen version in the Color of the Year Vivid Coral. Make this about 3" above the knee (lengthen the jacket about 6-8")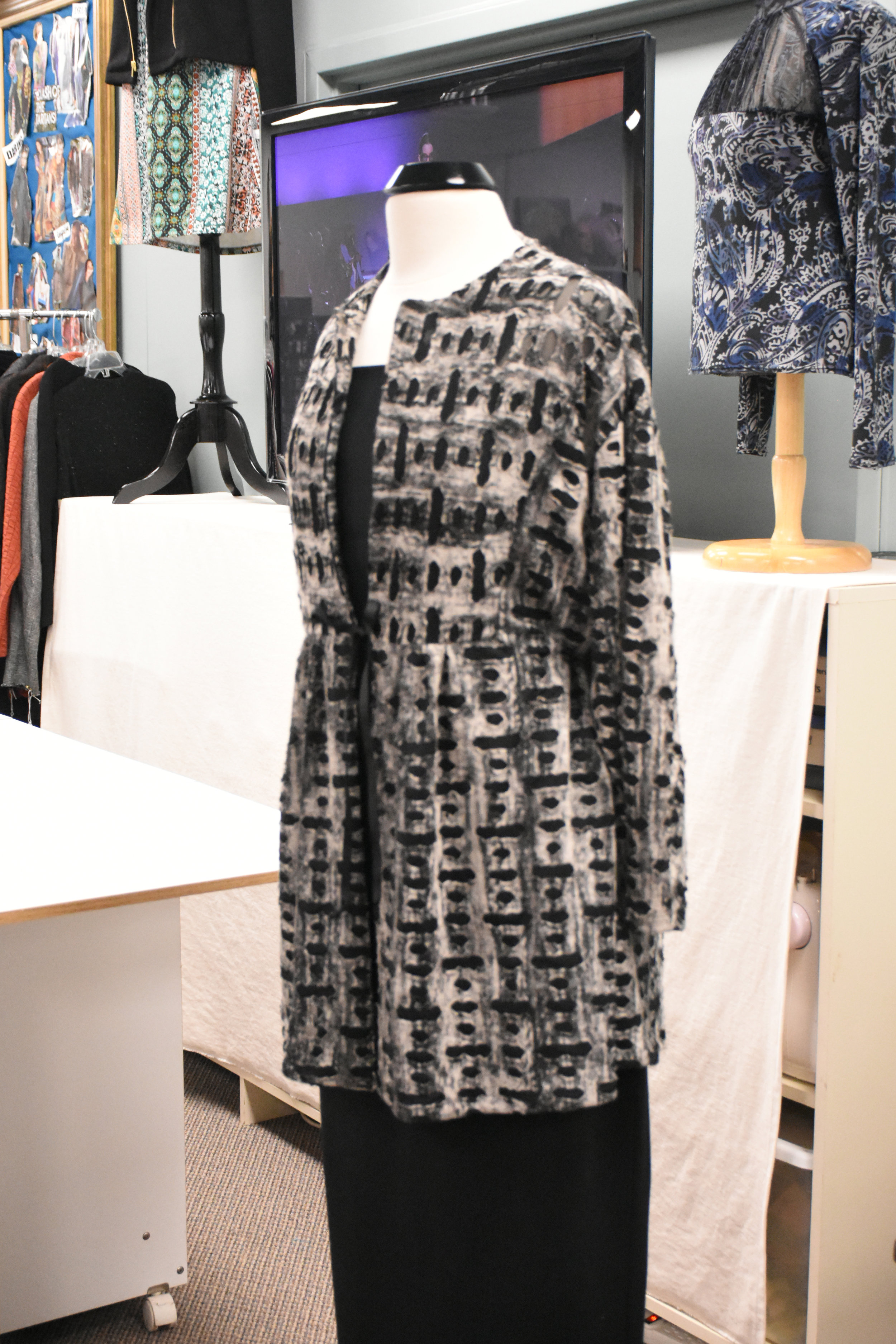 Inset Jacket Sewn in Distressed Knit Fabric
From our friends at Haberman Fabrics in Clawson